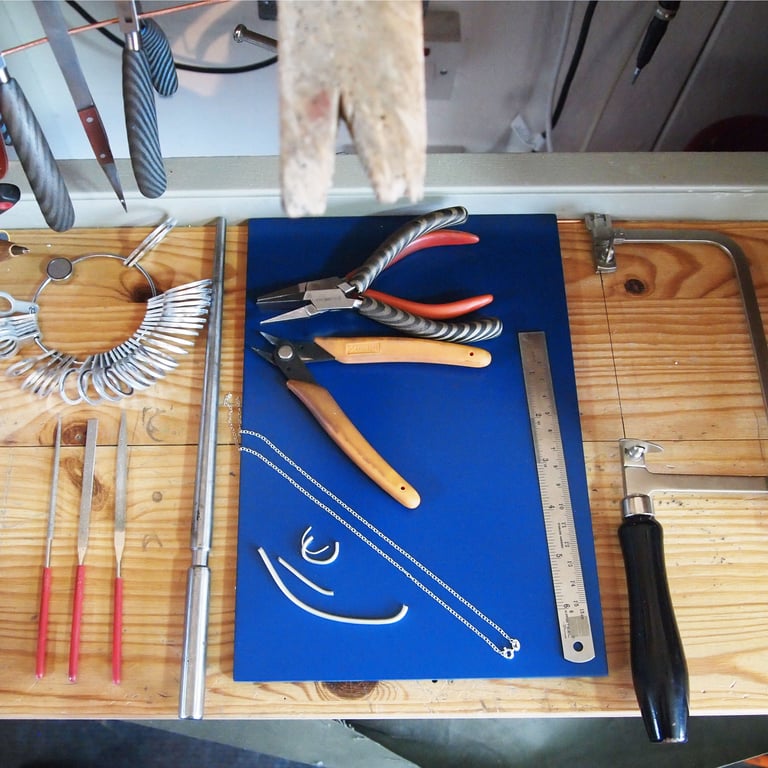 Make a silver textured ring £80.
Make a silver pendant necklace £85.
Come along to my lovely workshop in the Sidlaw Hills to learn how to design and make your own piece of Sterling silver jewellery.
In this class you will learn traditional jewellery making techniques such as cutting, forming, texturing and soldering. These techniques will enable you to make a piece of jewellery that you will wear with pride and treasure forever.
* During the ring class you will learn how to make a ring with sterling silver. You will cut, pattern, solder and polish your piece of hand made jewellery. Choose a thin stacking style or chunky band. About 2 - 2.5 hrs.
* On the pendant class you will learn how to design, form, texture and solder a beautiful stylised pendant to be added to a sterling silver chain. Make a piece from thick chunky silver or delicate bead wire. Saw it, hammer it, blacken it, there are lots of techniques to learn. I will guide you through the steps to make something you will love wearing. About 2.5 - 3 hrs.
This is a great starter class for anyone who is local to the Dundee area who would like to try silversmithing. No background knowledge is necessary just bring your creative mind and the rest will fall into place.
Each piece will be entirely different and unique to the maker.
Both class include materials, equipment and tea/coffee and cake.
This is the perfect Christmas gift.
Please get in touch if the class is for a gift and a gift card will be popped in the post.
Please note that orders for the jewellery making class are subject to a £20 per person cancellation fee. Re-scheduling a booking is free but must be done more than two weeks before the class is due to take place.