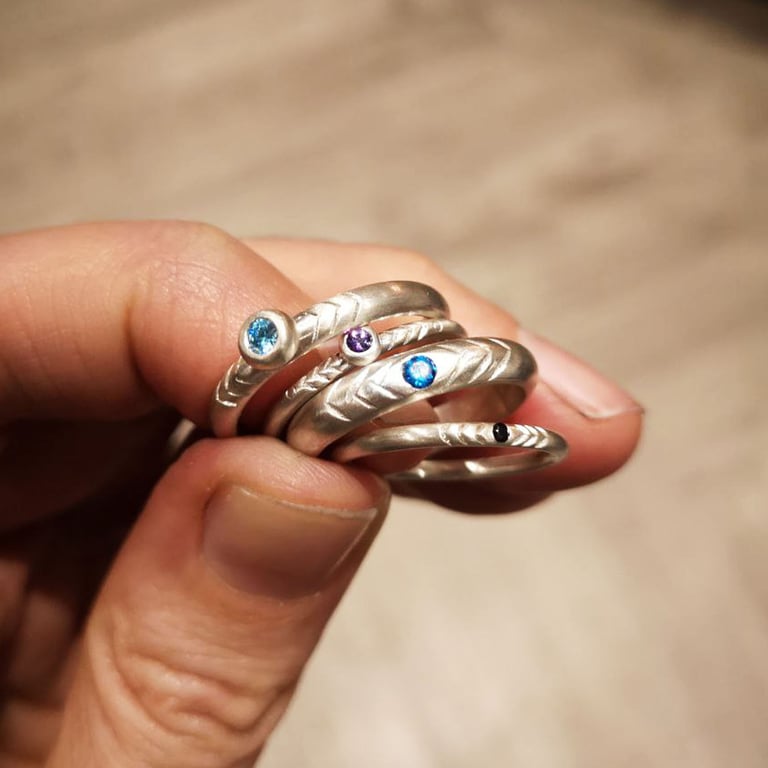 This is a beautifl set of rings that are sold in sets of four to celebrate your family.
The idea was to create a collection of pieces that were similar in style but each one different to bring you closer to your loved ones
This listing is for a family of four but see my other listings on how you can choose the right set for your family.
The collection Is designed with families in mind. So, mothers and daughters or mothers and sons, fathers and daughters or any combination for the loved ones you have in mind.
There are four different styles and each one can be personalised with a birthstone. If you would like to pick your favourite colour instead, that's fine too.
Each piece I make to order so it will fit perfectly. They are made from solid Eco sterling silver in my jewellery workshop in Angus, Scotland. They are hand carved and set using traditional jewellery making techniques.
Widest ring - 4mm D shaped band with a flush set 2.5 mm stone
The second ring with a set stone is 3mm D shaped band with a 2.5mm stone
The 3rd ring is a 3.5mm round band with a 2mm set stone
The 4th ring is a 1.8mm round band with a 1.5mm flush set stone.
When ordering please include your sizes and stone choices in the 'notes and instructions' at the check out.
If you aren't sure about your size then order a ring sizer and get it right first time. These can be found on my main page.