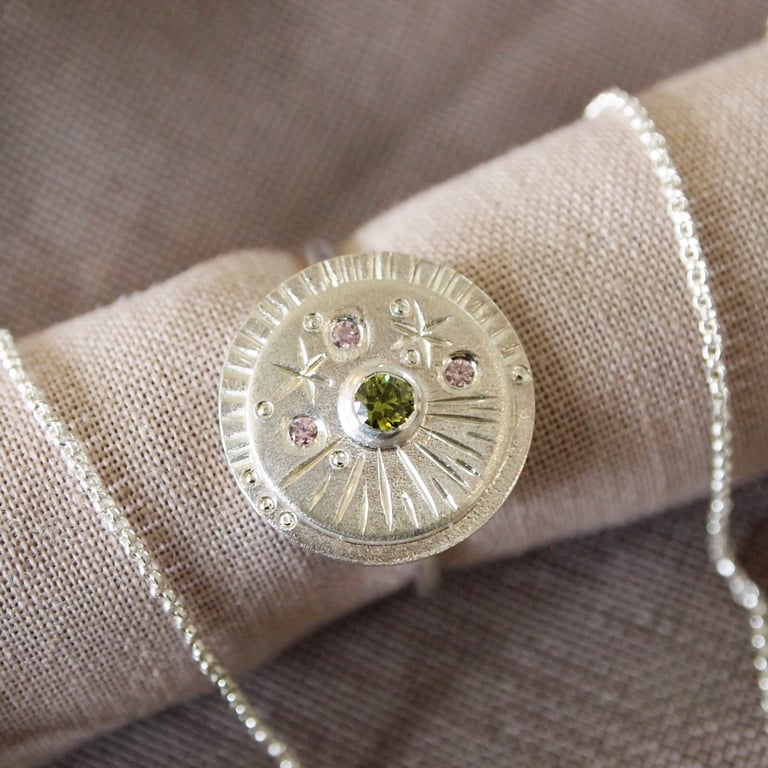 Eco Silver Orbit Ring with Peridot
This makes me think of Wonder Woman's shield - not sure if I should say that but it does!
The Orbit Ring has a feeling of power about it, I think it's the combination of the engravings, the colours and the shape - I love it!
"Peridot (the main green stone) attracts love and calms anger by giving renewal to all things. The epic metaphysical powers that peridot possesses have been written about much throughout the ages" - that's what Google says about peridots, It sounds pretty impressive to me!
Joking aside, the Orbit ring is lovely. I hand make the Orbit Collection in my jewellery studio in Angus, Scotland. I hand cut, shape, polish then set the stones in Eco silver before finishing them with hand engraving - it's a labor of love.
They are inspired by ancient civilisations and my love for surface decorations and engraving.
It is part of the silver Orbit collection, have a look to see the other items in the collection.
I make each piece to order so just let me know what size you are and I'll get it made up to fit you perfectly.