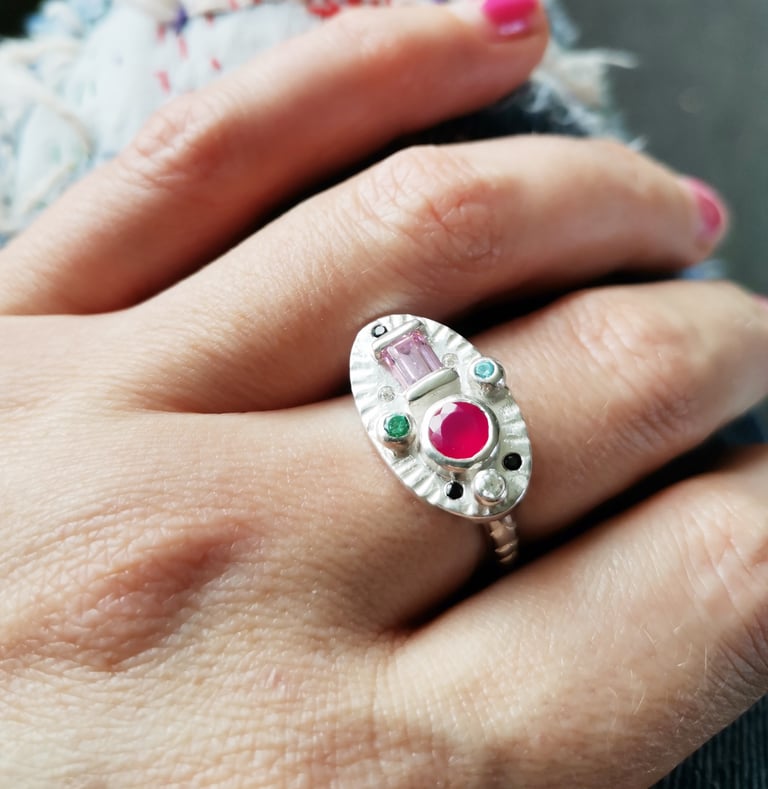 This ring is amazing!
It's encrusted with a treasure chest's worth of gem stones, all beautiful and sparkly.
Made from eco silver the Maya ring is going to be your new favourite piece of jewellery.
It has a 6mm pink baguette CZ, 1 x 5.5 mm pink gawa agate, 1 x 2.5 aqua marine, 1 x 2.5 light emerald, 3 x diamond cz's and 3 x 1.5 mm brilliant cut jet cz's!
All hand set on a 2mm oval bed sitting on a hand engraved shank decorated with chevrons. This ring is not going to be hiding away in the shadows, it is a maximalist beaut!
Hand made and set in my lovely jewellery workshop in Angus, Scotland.
Each piece is made to order so if you have any colour requests just get in touch and I'll see what I can do.
shank : 3mm D band
oval measures 22mm x 12mm